Offer
SEO for WooCommerce
WooCommerce is a very popular e-commerce platform that allows you to set up and run your own online store. Are you using this platform? If so, you need to remember about WooCommerce SEO services – it's fundamental to effectively acquire customers and increase your reach.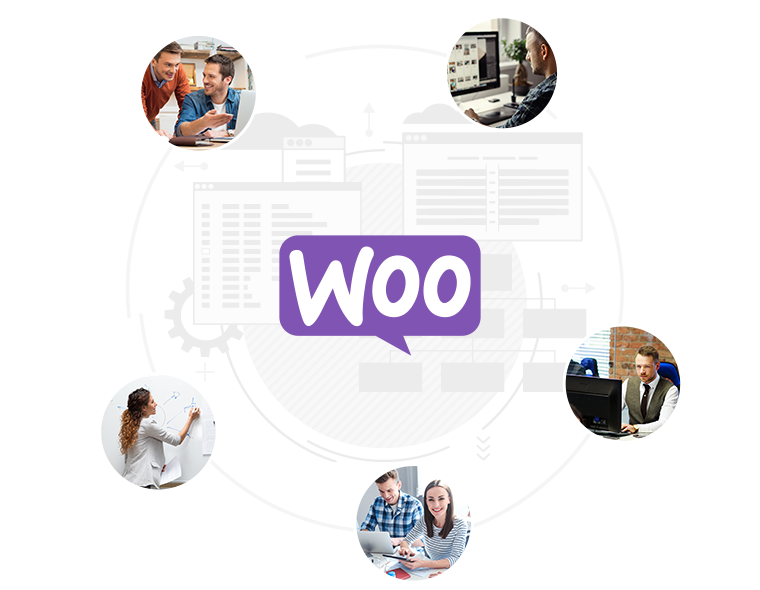 Safe and effective positioning methods
Assistance of a dedicated SEO specialist
Solutions perfectly suitable for WooCommerce
SEO for WooCommerce
First, a brief explanation of what WooCommerce is all about. It is a WordPress plugin that allows you to run an online store. It is worth knowing that stores prepared on the basis of WooCommerce offer a much greater possibility of adapting to the specificity of the selected sales model. This is because they are not subject to the limitations of SaaS platforms that offer standardized solutions.
Stores based on WooCommerce are chosen by entrepreneurs who:
run e-commerce activities on a larger scale – offer a large number of different products,
want to gain more independence when designing the functionality of the store,
want to have an open store – in the case of stores on SaaS platforms, it is different because if you stop paying the monthly subscription for website maintenance, you lose all of the data.
This e-commerce plugin gives you the possibility to conduct effective SEO activities if you use its full potential. What does this mean in practice?
Additional WooCommerce plugins
The big advantage of WooCommerce is the "openness" of the system, which allows you to enrich your e-store with various additional functionalities thanks to dedicated WooCommerce plugins. Of course, including those that support WooCommerce SEO. Yoast SEO or All In One SEO Pack are the most popular.
Indeed, these extensions can help WooCommerce SEO. But the scope of their capabilities is limited and they act as recommendations. The plugins allow:
automatic optimization of e-shop meta tags,
better control over building the so-called breadcrumbs,
easier tracking and elimination of duplicate content,
creating better-optimized content for SEO,
creating friendly URLs.
However, for them to work properly and bring results, they must be properly configured.
Remember that meta tags and friendly URLs, while extremely important, are not everything when it comes to tasks that must be performed to rank an e-store using WooCommerce. You should also take care of some other issues, and above all, coordinate all SEO activities following one coherent strategy. There is no room for mistakes here. They will result in "budget burnout" and a waste of time.
Therefore, it can be said that using SEO plugins for WooCommerce is a good option, as long as it is part of a broader SEO strategy.
WooCommerce – SEO on your own or with the help of a WooCommerce SEO expert?
In theory, WooCommerce SEO can be carried out without the help of a WooCommerce SEO expert – especially in preparing meta tags or content for individual subpages. The question, however, is whether this will work in every case. When doing SEO by yourself, you may have a problem with choosing the right keywords or their proper placement. It can also be a challenge to write good texts – texts that will fit into the SEO requirements and at the same time will be attractive to the readers. It all takes time and poorly planned (or unplanned) activities may waste SEO potential.
WooCommerce SEO with professionals
Here is the work can expect if you hire a WooCommerce SEO expert.
The work is preceded by an in-depth SEO audit – as part of it, a WooCommerce SEO expert looks at the actions taken by your competitors, and the specifics of your business, and assesses what changes need to be made in the store to rank better in Google results.
A work plan is developed – SEO for WooCommerce is a rather tedious and time-consuming process that takes place on many levels. Therefore, you have to wait for the effects of the actions taken and higher results in SERPs.
Appropriate keywords are selected – those that are related to your industry but can also be positioned effectively. Remember that the greater your competition, the more difficult it is to quickly gain a high position for the most popular phrases. This process takes time and requires a lot of money.
Activities are constantly monitored – WooCommerce SEO expert keeps his/her finger on the pulse and make sure that the WooCommerce SEO services bring the expected results.
It is worth knowing that WooCommerce SEO expert also uses a very wide range of advanced tools. At least that's how we work at Verseo. This allows us to take very precisely targeted actions, thanks to which you reach customers interested in your offer. As a result, the cost of acquiring one customer in relation to the expenditure on SEO and advertising the store on WooCommerce drops by several dozen per cent. That is why more and more e-commerce business owners decide to hire professional support – a WooCommerce SEO expert.
WooCommerce SEO services – what is that?
Effective WooCommerce SEO services depend on many factors, both technical and substantive. Only when all these elements are in place can you perceive the desired SEO results. What actions do you need to take to be successful? WooCommerce SEO services include:
Good hosting
When you decide to create a store based on WooCommerce, you need to put it on a properly selected server. Why is it important? A good server means a stable connection to the network, which translates into a faster response to the query. To put it simply: the less website loading takes, the better website is rated by Google's algorithms. That is why it is worth investing in hosting from a proven service provider and choosing the server with the optimal parameters. Remember: good WooCommerce SEO can lead to a significant increase in visits. Your server must be fully ready for this!
Shop code optimization
The speed and reliability of the e-shop operation depend not only on the quality and bandwidth of the server. The website code itself is equally important. If it is full of bugs, you may have difficulty opening individual tabs correctly. It will influence the WooCommerce store ranking.
Similar problems may be caused by various "barriers", which make it difficult for users to use the e-shop. These can be aggressive pop-ups that appear right after opening the page. Such elements should be avoided – both for the sake of Google's crawlers and customers.
The right amount of content in the WooCommerce store
WooCommerce SEO makes sense when the stores are filled with the right amount of valuable content. The pages cannot remain empty only with slogans and photos, because then there is no option to use the selected keywords. So how much content is the right amount of content? An in-depth SEO audit can give you the answer. During the audit, the most important keywords are identified and the level of text saturation is provided.
The content should appear not only on the home page and subpages with the main product categories. Over time, it is worth adding more subpages and a blog.
The quality of content in the store
The quantity is important, but the quality of the content is paramount. Why? First of all, the texts are not written strictly for WooCommerce SEO, but with the customers in mind. It is worth remembering that people who click a link to your store may need specific information. If in return they receive gibberish, they will quickly close the page and go to a different website.
But that's not all. Google's algorithms promote reliable content on a given topic. Those that are not excessively saturated with keywords, but discuss the issues related to the topic.
Remember the key rules when it comes to WooCommerce SEO services. Good content should include:
relevant keywords in reasonable amounts,
headers that organize the content – both at the H2 and H3 levels,
high substantive value,
bullet points and different ways to highlight the content.
If you want high-quality content, hire professionals – preferably a copywriter from a Woocommerce SEO agency. Gain content that will engage the recipient, and at the same time will be well received by algorithms. That's the most valuable combination.
Meta tags – the basis of effective WooCommerce SEO services
Texts are not enough. Meta tags are also needed. What are they? In a nutshell, this is content that is not displayed on the website but it carries important information for Google. The most important are the basic tags of the page, i.e. meta title and meta description. The title is displayed in the tab bar and Google search results. So they are also important in marketing.
When it comes to WooCommerce SEO, ALT tags assigned to images are also important, as well as those regarding the precise description of products.
Image optimization
When you sell a product online, it is obvious that you have to show it to the customer. Therefore, you need attractive images that will help you visualize the message. However, you have to be careful. Large images influence the page loading time. And that's the nail in the WooCommerce SEO coffin. If the audit shows that the photos load too slowly, it is worth changing the size even at the cost of a slight loss of quality.
Friendly URLs
URLs should contain legible information about the content of the tabs. Therefore, they should not present a sequence of random numbers or letters, but take the form of a verbal message with an appropriate structure. Friendly URLs make it easier for Google to index the page and thus increase the chances of high ranking.
Regularity
There is a lot of work at the beginning. WooCommerce SEO services are a multi-step, intensive process. You have to saturate the website with valuable content adapted to SEO requirements and optimize its code, metadata, referrals and other elements. However, completing this stage should not end SEO activities. In the following months, you need to:
add new content – subsequent product subcategories or product descriptions,
monitor and update existing texts – e.g. when it is necessary to change the keywords
monitor the situation related to SEO and implement changes that will allow you to maintain thealready achieved results or gain even better SERP results.
remember about linking!
That is why cooperation with digital agencies does not end with the preparation of the plan for WooCommerce SEO services. SEO and its implementation is a long-term process.
How long do you have to wait for the WooCommerce SEO effects?
It is quite difficult to answer the above question because a lot depends on the industry, the competition, the initial state of the e-store, and ultimately the budget. However, you should expect the first results to appear after about 3 months. Over time, you will notice more traffic on your website and a greater number of orders and bigger profits for your business.
Do you need WooCommerce SEO services? Looking for a WooCommerce SEO agency?
Verseo is here to support you!
As you can see, WooCommerce SEO is a serious task that requires many activities and a lot of experience. That is why it is worth getting full support in this regard to make sure that the budget invested in SEO is not wasted but gives the desired results. That is why you need the support of a WooCommerce SEO company.
Need help? Contact our WooCommerce SEO consultant and get a free quote. Our specialist will take care not only of SEO but also plan and implement other activities to advertise the store on WooCommerce – paid promotion in social media or Google Ads. Thanks to this, your website will gain more visitors and you will gain more profits.
Get a free quote!
Let us get to know your business and prepare
an individual offer for the perfect marketing solutions for you
– for free.
Monika Praczyk
Content Marketing Manager
We will respond to inquiries submitted from
Monday to Friday 8.00 a.m. – 4.00 p.m. within 1 hour (GMT+1)
The remaining inquiries will be answered on the next business day by 9.00 a.m.
Verseo spółka z ograniczoną odpowiedzialnością with its registered office in Poznań, at the following address ul. Węglowa 1/3, 62-122 Poznań is an administrator of your personal data.
About Verseo
Company's office is located in Poznań. Company is entered into the register of entrepreneurs, kept by the District Court of Poznań - Nowe Miasto i Wilda in Poznań, 8th Commercial Division of the National Court Division under number 0000596164, NIP (Tax Identification Number): 7773257986. You can contact us by writing a letter on the address indicated above or e-mail:[email protected]
You have right to:
access to your personal data,
correct your personal data,
demand to remove your personal data,
restrain to process your personal data,
object of process your personal data,
transfer your personal data,
withdraw consent.
If you think we process your personal data not in accordance with the law, you have right to object to supervisory authority - President of Personal Data Protection Office.
We process your personal data to:
handle your question, based on art. 6 ust. 1 lit. 6 of General Data Protection Regulation
promote our goods and services including ourselves in connection with your consent, based on art. 6 ust. 1 lit. a of General Data Protection Regulation
protect or claim in connection with our reasonable interest, based on art. 6 ust. 1 lit. f General Data Protection Regulation
You share your personal data freely. Please remember that without sharing your personal data you will not be able to send us a message, and we will not be able to answer you.
We can share your personal data with trusted recipient:
providers of tools made for: website analytics, marketing automation,
hosting operators.
We will process your personal data by the time:
which is necessary to achieve a specific purpose for which they were collected and after this term by the time which is necessary to protect or possible claim,
of withdraw your permission .
We don't process personal data in a way, which would involve making only automated decisions about you. More information about processing of personal data you can find in our privacy policy.