Even the best-designed website, laced with spectacular graphics, won't reach the top of Google's (or any other!) search engine popularity if you don't invest in SEO texts. What are they? What structure should they have? How often should they be published on the website? Should you write them yourself or outsource them to an agency? We answer these and many other questions with the following publication. We hope you find this instructive and entertaining.
The times when a business's website scored TOP10 "by itself" are long gone. The business has moved online, overwhelming virtual company websites with the weight of competition. What can be done to secure good ranks and overtake other rivals in the fight for the top spot? Among other things, SEO efforts, including the aforementioned SEO texts, can help. How to write valuable content that will be appreciated not only by our audience but also by Google's bots? We have our own ways to do this, and we are happy to share them with you. Let's fire up the engines and get going!
SEO texts – what are they?
The good old custom is to start with the basics and give the answers in a short summary. SEO texts – what are they? Nothing more than content to support the optimization of a website for queries from a popular search engine. Why invest in them? Because they translate into traffic that results in widespread conversions (time on site, purchases, newsletter sign-ups or direct contact with the vendor/service provider). How to recognize them? Good and properly written content is no different from high-quality product or marketing content. And finally – how to handle them properly? First of all, with sensitivity. Below we will expand on the topic and also explain why moderation and balance are especially important when it comes to SEO texts.
SEO texts are valuable content (that's key), served up in a palatable yet thoughtful form as to optimization effects. SEO service texts are created (and certainly should be :)) mainly with the recipient's needs in mind, who is looking for various types of information on the web, including information on a product or service. Properly written and equipped with a choice of phrases and headings, SEO text has the primary task of boosting the site to a higher rank within the search engine, attracting the user to the site and making them interested enough to stay there, derive knowledge from it and actively use the information provided, for example, by clicking on the links provided. The content of the text and the linguistic layer (style, correctness, fluency) must build a credible message that hits the taste and needs of the audience.
SEO articles need to be properly optimized for easy reading – both for humans and bots!  
Why these procedures? We've mentioned it before, but it's worth doing once again. Well, in order to gain and maintain a high search engine ranking, intensify website traffic and gain a chance for a happy ending to the transaction process. Simply put – to stay ahead of the competition in the race for podium places and increase sales.
What does this mean in practice? How is it done? Let's delve deeper into the process…
SEO content – a brief guide for writers
When it comes to SEO texts, the rules of "breaking patterns" are unlikely to work here! In their case, we have clear guidelines on how to write to do it well. Here are the golden rules of writing for SEO that you should print out and hang above your desk. And then assimilate and use in practice!
Write to people
Those who have tried to tackle SEO texts at least once know that the line between formulating a message to a "live audience" and creating content suitable for Google's bots is really thin. It's not just about touching on topics that are interesting to prospective customers, solving their problems or arousing their interest. It is also the clarity of the message and its appropriate form.
Excessively focusing on keywords in the text and trying at all costs to include as many of them as there are ants in an anthill will be counterproductive. First of all, few people will get through it. Google's bots, which will give a meagre rating to the content presented, will also look away. To sum up – by putting SEO phrases in the text without any restraint, we are doing ourselves (if we are writing for personal use) or the client (if we are writing on commission) a disservice, or, more precisely – we are harming the website.
Bonus…

What not to do?

Do not use trumped-up texts like "We are one of the largest organizations in Europe." After reading such a message, the reader might as well ask: "So?" Think about the benefits and create the message from that perspective.
Flirt with keyword research
We intentionally used a moderately professional-sounding verbal nomenclature. However, we wanted to point out the need for delicacy in their use in SEO texts. It is to be tactful and sensitive. Let's get down to specifics.
If you want to know what people are reading about, take a peek at Google Trends. For free you will get information on what Internet users from all over the world are looking for.
Before you start creating an article, it's also essential to check what phrases you're able to "boost" and what your audience is actually looking for. For this purpose, you can use Keyword Tool or AnswerThePublic. It's worth not limiting yourself to just the main phrases — those in the "long tail" have great potential and often allow for easier search engine optimization for a given query. You may find that they will also consume far fewer resources (money and time), throughout the process.
Good advice…

If you want to use the full power of keywords, put them in eye-catching and inviting titles and mid-headings in the text.
Place emphasis on form…
You have a gift for assembling words into stately "bouquets"? Your description of cotton balls, written in flowery language, reads with more engagement than some bestsellers available in bookstores? That's half the battle! Add keywords and take care of proper SEO text formatting. All sorts of bolding of important issues, italics, highlighting the most important parts of the text or bullets – everything is included! This will make the content clearer, emphasize the essentials and make Google's bots' work more pleasant. And they know how to return the favor.
Heads will be cut off for copying content.
Possibly hands. If you've read this emphatic statement and still don't know how to write SEO texts – we'll explain. DO NOT DUPLICATE CONTENT. If the words aren't flowing out from under your fingertips like gusty streams, you can always outsource SEO texts. The price list is set individually by the agency. If you choose to work directly with a copywriter, the price list for SEO texts will be created based on:
the specificity of your industry,
the "substantive input" provided,
the number of texts (and the basic unit of account – characters with spaces ;)) included in the ordered package of content,
your experience,
suggested deadline for turning in the material.
If writing is not your cup of tea, investing in professional SEO copywriting will be the best solution. Forget about copying excerpts from competitors' posts. Why?
First of all – texts obtained by CTRL+C, CTRL+V, and those that come from different sites and are glued together into a single linguistic monstrosity on the fly, usually can not be read without realizing that something is wrong. And how you greet your audience is how they will perceive you for a long time. This rule also applies to spelling and punctuation correctness. Sometimes one comma changes everything!
Second – you will get a ban from Google bots. It's not hard to figure out which content came first. Are you a thief? You will get a slap on your wrist, nose and… other body parts. More importantly – you will be dethroned by Google. And that will really hurt!
Ethical issues are also relevant here. Someone has worked hard or invested to have a unique feature on their site. And more humanly speaking – do not do unto others what you do not want others to do. And you, too, can fall victim to plagiarism, once you've produced your own beautiful and upcycled content.
Personalize the message
You can present one message in several different ways. What for? To make sure your recipient understands you well. Speak a language that reaches them, and this will make them feel at home on your site. And then you can pop the champagne.
Since you have reached this point, it is safe to assume that you already know how to write SEO texts. To be absolutely sure, however, we serve examples below.
Why is SEO writing important and how to implement it in SEO strategies?
SEO advertising texts or substantively valuable blog posts need to be created thoughtfully. As we wrote above, what matters is the right form, the length of the entry and the proper use of keywords. What does this mean in practice? How to write SEO texts that are practical and win positions at the top of the search engines results pages?
Writing for SEO through the eyes and… in the words of a specialist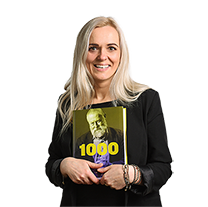 We asked the boss of all bosses, Head of Copywriting, Verseo – Kasia Jurewicz, about why chiselling texts for SEO pays off and what their successive uploading to the website can give us!
With an excellent text (bon mot) you could create a buzz in a company; with a good advertising text (claim) – promote a brand and attract customers, with a good SEO text – "tickle" Google's bots and boost a website rank in a search engine. In the era of gigantic e-commerce growth, the latter asset is especially important for companies, which face a race for the attention of customers seeking answers to their questions and needs online every day. – explains Katarzyna Jurewicz.

SEO copywriting is still sometimes considered second-rate creative writing. Some, while appreciating its role on the Internet, still accuse it of lacking the flair and quality that they believe only creative copywriting has (ad texts, slogans, catchphrases or product names). SEO copywriting earned this label in the early years of search engine development, when poor linguistic and substantive synonymized content, focused solely on stuffing as many keywords as possible into web pages, was the norm. This uncontrolled and wild race for visibility in the virtual space has thankfully come to an end, and with it — the era of byplay in the area of the word posted on the web. Today, entrepreneurs care about their image in the broadest sense, and it is they who, along with the developers of modern technological solutions responsible for searches, have courted quality.

Modern SEO copywriting plays a very important role in digital marketing and contributes significantly to the optimization of websites, affecting their visibility and promotion online. Text for the homepage, categories, product sub-pages, blog or sponsored articles, prepared according to strict SEO rules, is a value that cannot be overestimated. – she adds.
How to write SEO texts – a summary of the most important rules
If you're still wondering whether it's worth it to write SEO texts for your website – the answer is: YES! To serve valuable articles that will be appreciated not only by website visitors but also by search engine algorithms, bet on quality. In a broad sense.
Ideas for additional content can be born in your head or flow from suggestions from Internet users! Find out what topics are broadly discussed and what problems your target audience is struggling with. Solve them with your posts. Put the cat among the verbal pigeons, tone down emotions, and be intriguing and expressive. Make yourself known from your best side – literally and figuratively.
In addition to the typical articles that fall into a business blog, you may be tempted to post:
industry news with your own commentary,
coverage of events, actions or interventions,
tests and opinions,
case studies.
As you can see – there is a lot to choose from! Whatever form of expression you decide on, keep the visual issues in mind.
Refine the title, and headings (h1, h2, h3…), use keywords and use "long tail" ones too. On top of that, be sure to "draw the sitemap" to make its structure even clearer to search engines. Your SEO strategy should consist of all of aforementioned steps.
Want more? Stop by the Verseo blog. There is a lot of useful information there, including how to write SEO content. Help yourself!